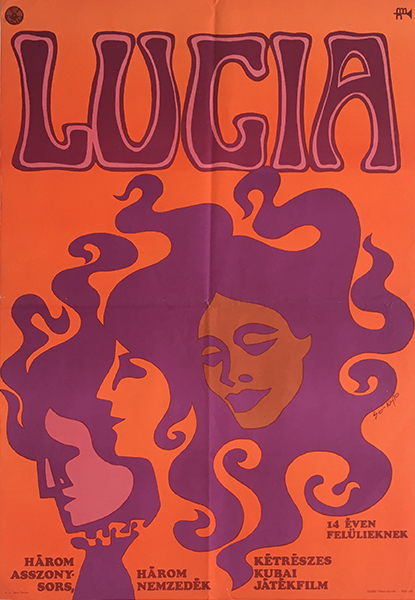 Lucía
Hungarian title:
Lucia
Size:
A1 1 Sheet (cca. 55 x 84 cm)
Condition:
Fine, fold marks, creases and tears along the border.
Price: $280
Description:
Lucía is a 1968 Cuban black-and-white drama film directed by Humberto Solás, and written by Julio García Espinosa and Nelson Rodríguez. It was the winner of the Golden Prize and the Prix FIPRESCI at the 6th Moscow International Film Festival in 1969. The film is a period piece, told in three stories in different moments of Cuban history (the Cuban war of independence, the 1930s and the 1960s), all as seen through the eyes of a different woman, each named Lucía. (source: wikipedia.org)
The designer couple So-Ky created an elegant poster for the film that depicts the three Lucías as they were emerging from the waves. This alludes to the three different ladies experiencing the same wave of actions in the same place and interpreting those through their own unique view. The style of the piece resembles the Art Nouveau style of the turn of the century. This is a great example of the creativity and versatility of style present in the 1960s and 70s in Hungarian poster design.