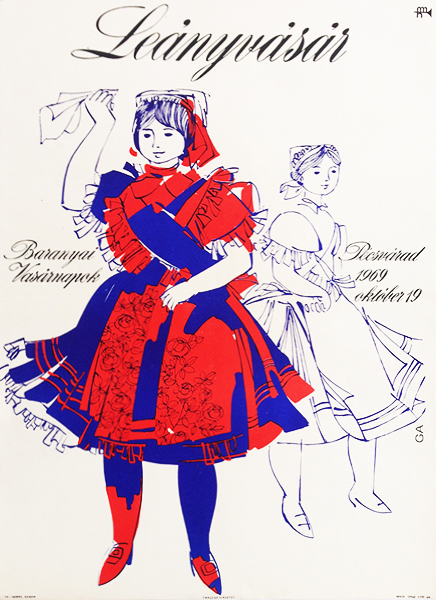 Marriage market
Hungarian title:
Leányvásár
Size:
B2 (cca. 50 x 70 cm)
Condition:
Fine, light fold marks and wear.
Material:
Paper, offset lithography.
Price: US$400
Description:
Poster for a traditional event held at Pecsvarad a city in Baranya County. The marriage market roots back to 300 years. Due to several historical events the nationalities living at Pecsvarad were very diverse and although they lived peacefully, they did not marry anyone with a different nationailty. In order to avoid complications resulting from marriages with relatives, in every autumn families invited young men from the neighbouring cities and gave them opportunity to get acquainted with the girls. The girls dressed up, wore their best clothes and accessories and if they were lucky they got chosen by a boy and got married in winter. The event is held every year but today it is more of a folk art celebration than a real marriage market.