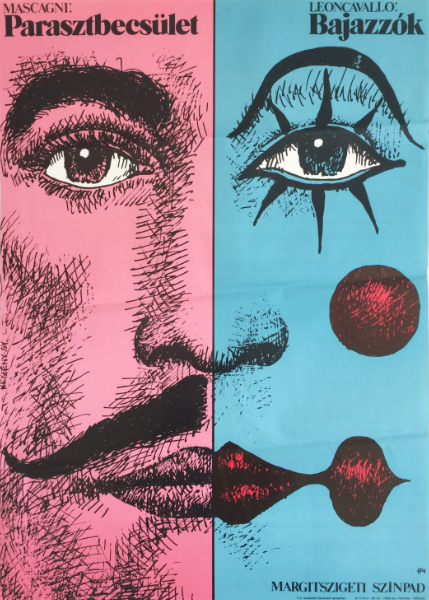 Mascagni: Cavalleria Rusticana - Leoncavallo: Pagliacci opera
Hungarian title:
Mascagni: Parasztbecsület - Leoncavallo: Bajazzók. Margiszigeti Színpad
Size:
B2 (cca. 50 x 70 cm)
Condition:
Fine, fold marks, light wear.
Material:
Paper, offset lithography.
Price: $800
Description:
The poster promotes two operas staged on the open air theater at the Margaret Island. Bajazzo (Pagliacci) was written by Leoncavallo.
It is an Italian opera in a prologue and two acts, with music and libretto by Ruggero Leoncavallo. It is the only Leoncavallo opera that is still widely performed.
Pagliacci premiered at the Teatro Dal Verme in Milan on 21 May 1892, conducted by Arturo Toscanini, with Adelina Stehle as Nedda, Fiorello Giraud as Canio, Victor Maurel as Tonio, and Mario Ancona as Silvio. Nellie Melba played Nedda in London in 1893, soon after the Italian premiere, and it was given in New York on 15 June 1893, with Agostino Montegriffo as Canio (source: wikipedia.org)
Interestingly, the other advertised opera is Cavalleria Rusticana Mascagni is related to Leoncavallo's piece. Around 1890, when Pietro Mascagni's Cavalleria rusticana premiered, Leoncavallo was a little-known composer. After seeing Mascagni's success, he decided to write an opera in response: one act composed in the verismo style. Cavalleria rusticana is an opera in one act to an Italian libretto by Giovanni Targioni-Tozzetti and Guido Menasci, adapted from a play and short story written by Giovanni Verga. Considered one of the classic verismo operas, it premiered on 17 May 1890 at the Teatro Costanzi in Rome. Since 1893, it has often been performed in a so-called Cav/Pag double-bill with Pagliacci. (source: wikipedia.org).