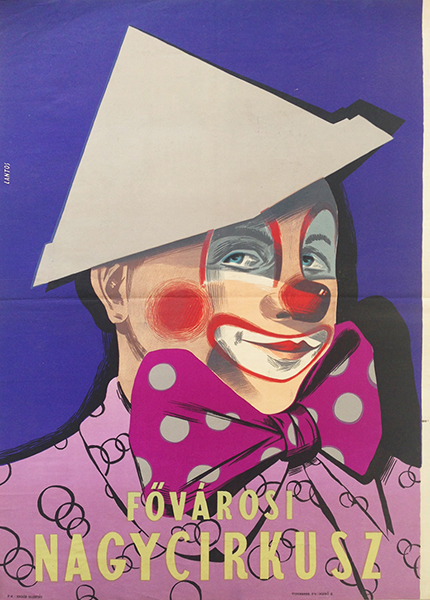 Metropolitan Grand Circus
Hungarian title:
Fővárosi Nagycirkusz
Size:
B2 (cca. 50 x 70 cm)
Condition:
Fine, light fold marks and wear.
Material:
Paper, offset lithography.
Price: US$400
Description:
Decorative circus poster. It is a very interesting design in terms of being quite atypical. The use of a clown as the main element of circus poster was very common, but unlike on most circus posters this one shows a grown up man wearing the clown mascara, while typically artists used to depict the imaginary clown figures. The different shades of purple as the most dominant colour of the composition is also an interesting choice as in most cases circus poster designers preferred using red and yellow to create a circus-like atmosphere. This poster manages to catch the ambivalent character of the circus in just one single image: the serious and sometimes very hard side of the circus world and its artistic and cheerful character.