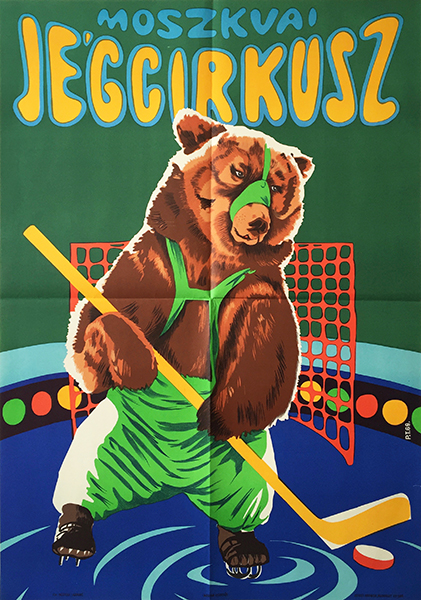 Moscow Circus on Ice
Hungarian title:
Moszkvai Jégcirkusz
Size:
B2 (cca. 50 x 70 cm)
Condition:
Fine, fold marks, one small tear.
Price: $600
Description:
Poster for the 1969 Moscow Circus on Ice performance in the Metropolitan Grand Circus.
Russian circus is one of the internationally most acclaimed circus productions. The beginning of their worldwide recognition dates back to the Soviet period when a large variety of Russian circus acts fused for a grand tour in the United States. Their popularity lies in their unique shows where, unlike the Western circuses, they put more emphasis on the narrative, the Eastern European culture and dancing acts. In the Soviet Union circus was considered people's entertainment, being equally valuable as ballet or classical music, but was a lot cheaper, therefore regarded as more proletarian what was an important aspect in socialist countries.
Circus on Ice was a new genre created by the famous Russian circus director Arnold Gregoryevich Arnold. Their first performance was in 1964 in the Soviet Union and it was an immediate success. The new act incorporated figure skating and traditional circus stunts such as juggling, clowning, acrobatics, contortion or animal acts, all performed on ice. The key to their popularity is the fact that when classic circus tricks are performed on the narrow ice ring they seem even more difficult, dangerous and dynamic what amazes the audience. These circus acts involved tricks with animals - monkeys, seals, dogs - as well. The most popular stunts in Russian circus were bear acts where bears juggle with their feet, play football, or at the ice circus, play ice hockey.
Poster artists often designed circus posters depicting animals. For this poster the bear was chosen as the means for popularizing the show. The bear is wearing ice skates, holding a hockey stick and is about to shoot the puck. The bright colours of the composition follow the magnificent and vibrant world of the circus. The bear itself is beautifully painted, his hair is drawn with delicate brushwork and the sensible depiction of the spotlight's reflection on him is attained by the application of various shades of brown. The rest of the composition is less detailed, drawing even more attention to the main character, the bear. The playful handwritten typography matches the atmosphere of the composition as well as the advertised event.