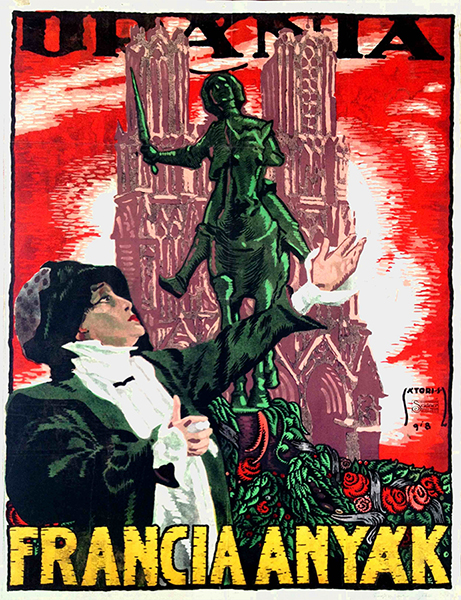 Mothers of France
Hungarian title:
Francia anyák
Size:
Pre-war 2 Sheet (cca. 95 x 126 cm)
Condition:
Near mint. Restored, on Japanese paper.
Material:
Paper, stone lithography.
Price: US$4000
Description:
Beautiful Art Nouveau poster for a famous propaganda movie, 'Mothers of France.' The original title of the movie is: 'Mères Françaises'.
"The film features Mucha's muse, the celebrated French star, Sarah Bernhardt. The movie was shot in 1917, but in Hungary it was only released after the First World War, since it honors the French heroism. A mother loses first her son and then her husband in the trenches of France during the First World War. She devotes herself to the French cause and to helping those wounded in the war."
(source: imdb.com)
There is an inscription appearing in the upper side of the poster, 'Uránia', which is the name of the cinema where the movie was presented in Hungary.
The poster depicts the main character of the movie standing in front of the equestrian sculpture of Jeanne d'Arc and the Place des Pyramides in Paris. The statue is surrounded by leaves and roses beneath. The sky is firery red in the background, which, together with the elated movement and facial expression of the woman figure, contributes to the dramatic atmosphere of the design. The poster is an interesting piece from the early times of Hungarian poster design.