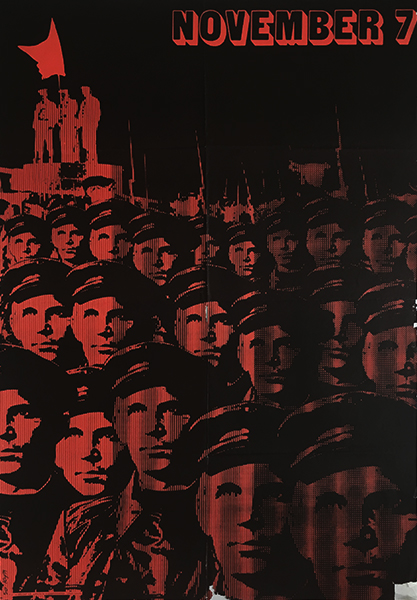 November 7
Hungarian title:
November 7
Size:
B1 (cca. 70 x 100 cm)
Condition:
Very good. Horizontal and vertical fold marks, paper loss at edges.
Price: $400
Description:
The October Revolution, also known as the Red October or the October Uprising or the Bolshevik Revolution, was a seizure of state power instrumental in the larger Russian Revolution of 1917. It took place with an armed uprising in Petrograd traditionally dated to 25 October 1917 (by the Julian or Old Style calendar, which corresponds to 7 November 1917 in the Gregorian or New Style calendar). 7 November, the anniversary of the October Revolution, was the official national day of the Soviet Union from 1918 onward. The October revolution of 1917 also marks the inception of the first communist government in Russia, and thus the first large-scale socialist state in world history. (source: wikipedia.org)
November 7 was an official holiday in the socialist Hungary and for the occasion numerous propaganda posters were published. The designer couple So-Ky was very sought after in the 1960s and they designed many propaganda posters. On this composition So-Ky represent the workers during the riot. They chose a fashionable manner; the burnt photography that is combined here with intensive red color and raster dots. The monumental style, the image of the strong workers gazing to the future, the red and black colours are all typical socialist motifs.