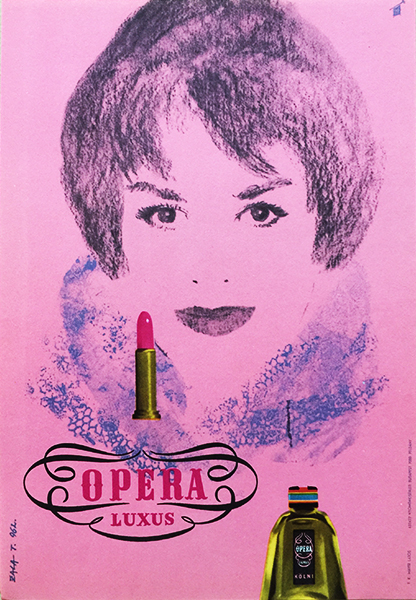 Opera Luxury
Hungarian title:
Opera luxus
Size:
Tram poster (cca. 17 x 24 cm)
Price: $160
Description:
Tram poster from 1962. Size: 16 x 23 cm.
The poster promoted the Opera brand which produced toiletry. In the times of Socialism, factories were owned by the state and production was controlled by it. In the 1960s six companies responsible for the production of cosmetic goods existed. The Opera brand was a high quality brand produced by the company established in 1831 by József Hutter, the father of the famous Hutter soap. The same company - which today is called Caola-Alfa Ltd. - produced brands like Ovenall, Flóra, Schmoll, etc. Opera brand had various products such as lipstick or cologne. These two are visible on this decorative tram poster.
Opera was a luxury brand which fact is expressed by every detail of this poster. The pastel pink colour, the typeface and the classy lady. The poster was designed by one of the most prominent graphic designers of the 20th century, Tibor Zala. In the 1960s he designed numerous tram posters. This is one fine example of those.