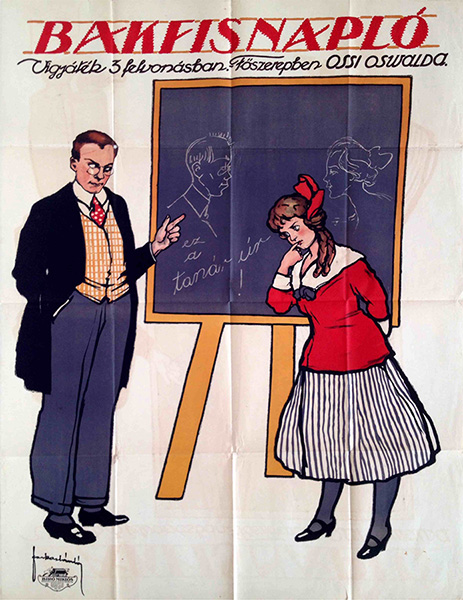 Ossi's Diary
Hungarian title:
Bakfisnapló
Size:
Pre-war 2 Sheet (cca. 95 x 126 cm)
Condition:
Fine, with small tears, fold marks.
Material:
Paper, stone lithography.
Price: $2400
Description:
Lovely poster from 1917, for a German comedy film, 'Ossi's diary'. The movie's original title is "Ossis Tagebuch".
The movie was directed by Ernst Lubitsch, the great German movie director. It is a piece made during the golden age of German cinema. The film features the popular actress, Ossi Oswalda.
"Known as the »Mary Pickford of Germany« because of her great popularity, Oswalda actually stood closer to the American flapper, as portrayed by actresses like Clara Bow or Coleen Moore. Perfecting her screen persona in a series of short film comedies especially written for her (e. g. Ossi's Tagebuch [1917, »Ossi's Diary«]), she charmed audiences through an almost ferocious joy of life and, at times, a surprisingly uninhibited eroticism."
(source: Sabine Hake: Passions and Deceptions: The Early Films of Ernst Lubitsch. Princeton University Press, 1992.)

The poster was created by László Farkas, in Art Noveau style. It reflects the movie's humorous atmosphere with a funny scene: Ossi can be seen in a school uniform, standing in front of a blackboard and a bit puzzled when the teacher standing on the opposite side points at the funny drawing on the blackboard suspiciously. The kindly humorous portrayal together with the Art Nouveau character make this poster a fine example of the early Hungarian poster art.