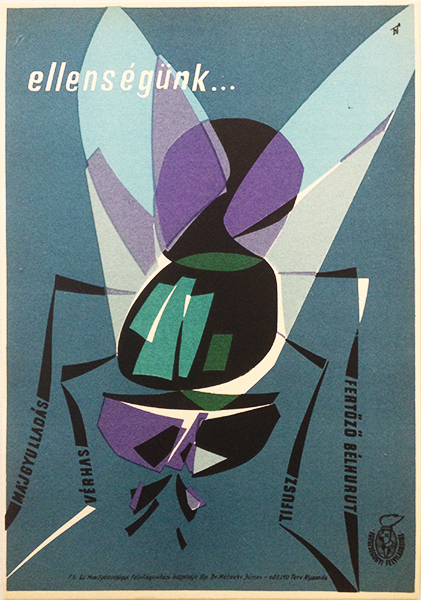 Our Enemy... The fly
Hungarian title:
Ellenségünk... A légy
Size:
Tram poster (cca. 17 x 24 cm)
Material:
Paper, offset lithography.
Price: US$400
Description:
Health propaganda poster by Antal Gunda, a very important Hungarian poster artist.
The poster depicts a fly and the lines of its four legs are interrupted by the text: names of different diseases: liver inflammation, dysentery, typhus and contagious gastro-enteritis.
During the Socialist times health propaganda was a common subject of posters. The artists got the commissions from the state. Most of these posters set humor or any abstrahation aside, but Gunda always managed to find a more unique way of portrayal. Although the design was very unusual in its time, the committee accepted it. Their only requirement was to write the names of the deseases in Hungarian, not in Latin (on the maquette, the scientific names were apparent). Interestingly the design was strongly criticized by a journal, where the journalist underpinned his observations by psychological surveys which allegedly proved that in order to reach the desired effect with a poster, it needs to have an easy to recognize design with more dominant text. However, the journalist stated, that applying a modern form is not necessarrily bad, because it can raise attention.