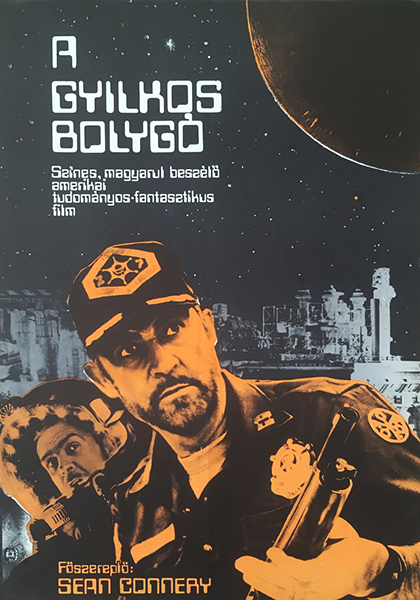 Outland
Hungarian title:
A gyilkos bolygó
Size:
A2 1/2 Sheet (cca. 42 x 59 cm)
Condition:
Near mint, light horizontal and vertical fold marks.
Price: $160
Description:
Outland is a 1981 British science fiction thriller film written and directed by Peter Hyams. The film stars Sean Connery, Peter Boyle, and Frances Sternhagen. Set on Jupiter's moon of Io, it has been described as a space Western, and bears thematic resemblances to High Noon. The story takes place in the distant future: a police marshal stationed at a remote mining colony on the Jupiter moon of Io uncovers a drug-smuggling conspiracy, and gets no help from the populace when he later finds himself marked for murder. (source: wikipedia.org, imdb.com).
The poster was printed by BKKM, the printing house of Kecskemet. The cinema in Kecskemet had its own printing house where they produced their own designs for movies. In most cases the designers are unknown since the majority of these works is unsigned. BKKM started at the end of the 1970s, early 1980s when many movies became available in Hungary which were banned before due to censorship. All of these posters were printed in A2 size. Most of the posters by BKKM are somewhat alike in terms of the composition, meaning that most of them are based on a photomontage and depict a scene or the characters from the movie.