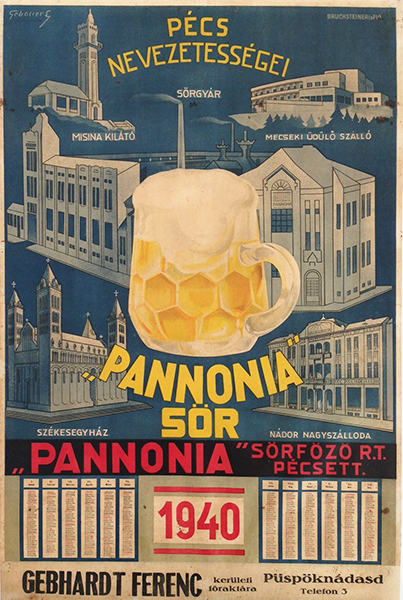 Pannonia Beer 1940 - attractions of Pecs
Hungarian title:
Pannónia sör 1940 - Pécs nevezetességei
Size:
Pre-war 1 Sheet (cca. 63 x 95 cm)
Condition:
FIne, restored, stains and wear.
Material:
Paper, lithography.
Price: $1200
Description:
Pannónia Brewery and its product, the Szalon Beer well deserved the title of being one of the most important attractions of Pécs. This decorative poster from 1940 places the brewery and the beer behind such famous buildings as the Dome or the Nádor Hotel.
The poster was designed by Ernő Gebauer (1882-1962), a real admirer of the city of Pécs. Gebauer was a student of Bertalan Székely, and he was mostly known for his frescos in rural temples and in important monuments of Pécs. His beloved city has always been a central topic of his art, being apparent in his illustrations, book covers, ex libris and this poster here.
This poster is a spectacular commercial poster from the 1930s, and a special design which collects and depicts the architectural attractions of Pécs.