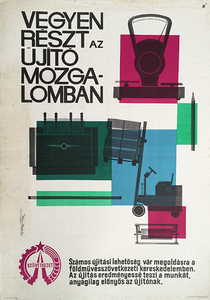 Participate in the Innovation Movement
Hungarian title:
Vegyen részt az újító mozgalomban.
Size:
A1 1 Sheet (cca. 55 x 84 cm)
Condition:
Very good, fold marks, the poster is dirty, it needs proper cleaning
Price: $400
Description:
Spectacular propaganda poster from the 1960s. It was created to motivate the population to take part in innovation. "There are a number of innovation opportunities waiting to be solved in farming cooperative trade. Innovation will make work effective and is financially beneficial for the innovator." - sounds the arguement.
The design is a colourful piece with black and white images of several household objects. They are arranged in a special way which creates a disorganized atmosphere. However, the composition is strictly constructed.
The poster evokes the style of the industrial art and design tendencies of the period in popular culture.