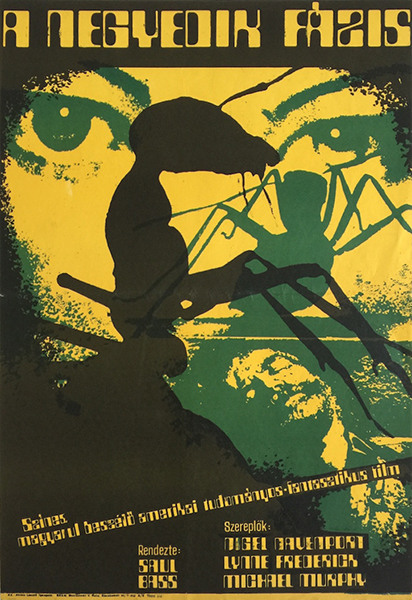 Phase IV
Hungarian title:
A negyedik fázis
Size:
A2 1/2 Sheet (cca. 42 x 59 cm)
Condition:
Fine, light fold marks.
Price: $280
Description:
Phase IV is a 1974 British-American science fiction horror film. The only feature-length film directed by graphic designer and filmmaker Saul Bass, it stars Michael Murphy, Nigel Davenport and Lynne Frederick. The interiors of the film were shot at Pinewood Studios in England and the exterior locations were shot in Kenya, though the film is set in the Arizona desert in the United States. It was produced by Alced Productions and Paramount Pictures. The film was a box office disappointment and as a result this was the only feature film directed by Bass. It has since gained a cult following due to TV airings beginning in 1975 and also being shown on Mystery Science Theater 3000 during the KTMA era. A novelization of the script, written by Barry N. Malzberg, was published as Phase IV in November, 1973. (source: wikipedia.org)
The poster was printed by BKKM, the printing house of Kecskemet. The cinema in Kecskemet had its own printing house where they produced their own designs for movies. In most cases the designers are unknown since the majority of these works is unsigned. BKKM started at the end of the 1970s, early 1980s when many movies became available in Hungary which were banned before due to censorship. All of these posters were printed in A2 size. Most of the posters by BKKM are somewhat alike in terms of the composition, meaning that most of them are based on a photomontage and depict a scene or the characters from the movie.