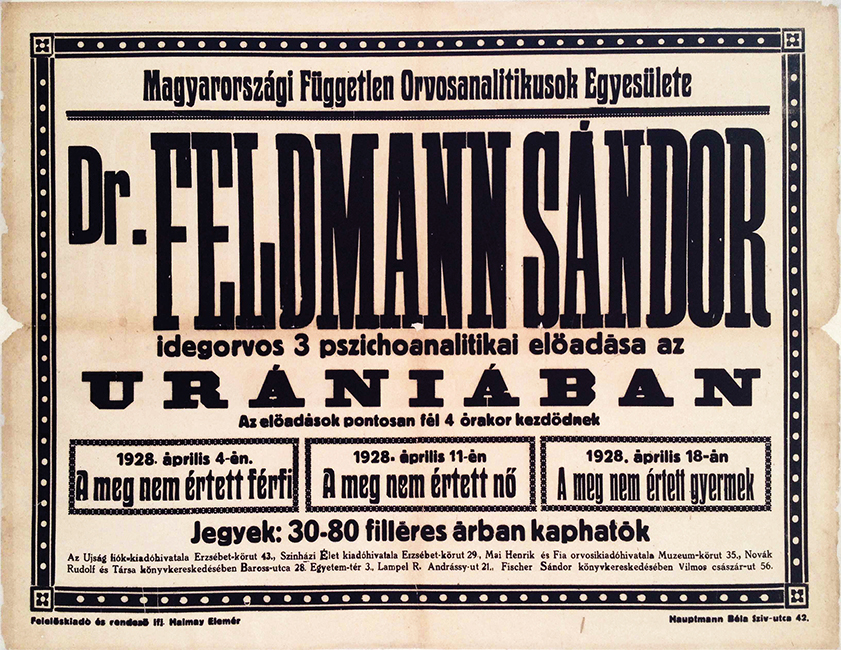 Psychoanalytical Lectures by neurologist Dr. Sandor Feldmann
Hungarian title:
Dr. Feldmann Sándor, idegorvos pszichoanalitikai előadásai
Size:
Pre-war 1/2 Sheet (cca. 48 x 63 cm)
Condition:
Fine, restored.
Material:
Paper, stone lithography.
Price: US$400
Description:
Simple and informative poster of 3 lectures held by Dr. Sándor Feldmann, neurologist. The lectures were held in Uránia, at 3.30 in the afternoon, in 1928, on the 4th, 11th and 18th of April. The titles of the lecture were respectively: The ununderstood man, The ununderstood woman, the ununderstood child.
Sándor Feldmann was a very prominent psychoanalist. He was born in 1870 in Hungary, studied medical science in Budapest and in 1939 he moved to the US. He founded a psychonalaitic center in Rochester and he was the very first psychoanalist in the city. He died in 1971. He published 70 books and around 50 articles in which he focused on lingustics and verbal and non-verban communication. He was a member of the International Psychoanalytic Association, the New York Psychoanalytic Society, the Rochester Academy of Medicine, the State Medical Society and the American Medical Association..