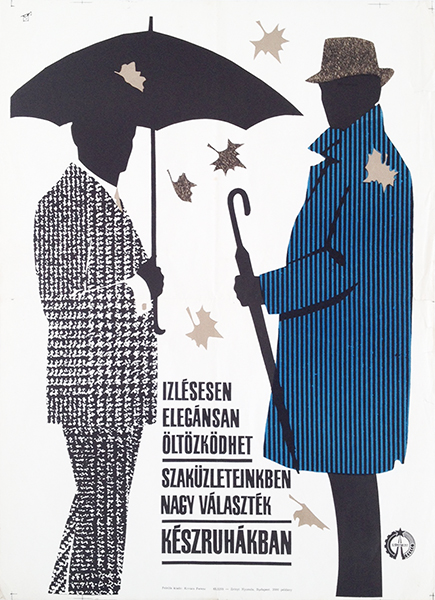 Ready-made apparel
Hungarian title:
Izlésesen elegánsan öltözködhet szaküzleteinkben nagy választék készruhákban
Size:
B2 (cca. 50 x 70 cm)
Condition:
Very good. Some creasing and a few very small tears.
Price: $400
Description:
'You can dress tastefully and elegantly in our shops. Huge selection of ready-made apparel.'
This fashion poster from 1965 is an attractive modern work, with a clear and powerful composition. The houndstooth patterned tweed suit and the coat with stripes represent men's fashion of the 1960s, they are specific and decorative elements of the graphic.
Publisher information: Budapest, Kovács Ferenc, 1965, Zrínyi Nyomda Budapest, 2000 copies