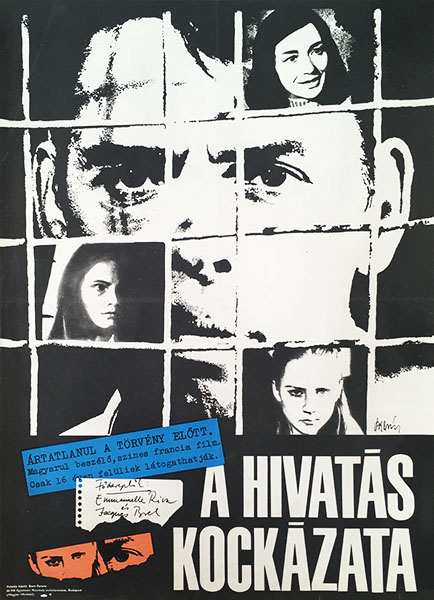 Risky Business
Hungarian title:
A hivatás kockázata
Size:
A2 1/2 Sheet (cca. 42 x 59 cm)
Condition:
Fine, light fold marks, small tear along border.
Material:
Paper, intaglio.
Price: US$160
Description:
Poster by Nandor Szilvasy of the French drama. Original title: Les Risques du Métier. Directed by André Cayatte, starring Emanuelle Riva and Jacques Brel.
The film is about Jean Doucet who is a popular schoolmaster teaching in a small town in Normandy. At least he was... Until the day one of his pupils, Catherine Roussel, a garage owner's daughter, accuses him of trying to rape her. But although Doucet (happily married to schoolmistress Suzanne) has always had a conduct above reproach, the Roussels decide to file a complaint against him...(source: imdb.com)
Szilvássy, the author of this poster often used photomontage on his posters, like on this one. We see the face of the main character behind bars and the pictures of the girls who accused him appear as icons between the bars.