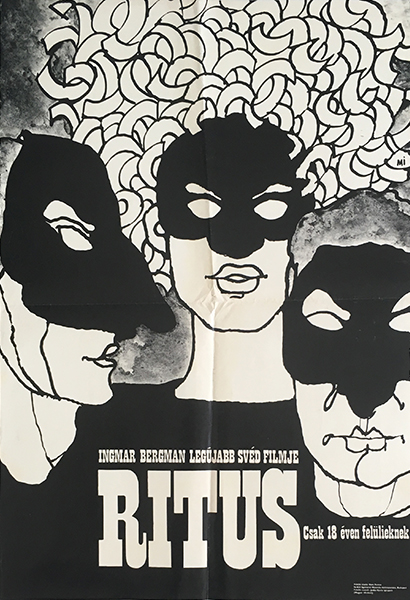 Rite, The
Hungarian title:
Rítus
Size:
A1 1 Sheet (cca. 59 x 84 cm)
Condition:
Fine, light fold marks and wear, small tear in the middle.
Material:
Paper, intaglio.
Price: US$400
Description:
The Rite is a 1970 vintage Hungarian movie poster designed by Ilona Muller.
Riten is a 1969 Swedish film.
While on tour in a European country, the actors Hans Winkelmann, his wife Thea and his best friend Sebastian Fisher are charged of obscenities and sent to court. While interviewing the trio individually in his office, Judge Dr. Abrahamson challenges and discloses the feelings and troubles of the unstable personality of each one of them: Sebastian is an aggressive man with drinking problem and lover of Thea; Hans is a controlled wealthy man and leader of the company; and Thea is a fragile and vulnerable woman with mental disturbance. The judge pushes the emotions of the dysfunctional troup to the edge and they propose a private exhibition of their play The Rite for his evaluation where the judge finds more than eroticism and obscenities.
Director: Ingmar Bergman
Writer: Ingmar Bergman
Stars: Ingrid Thulin, Anders Ek, Gunnar Björnstrand
(source: imdb.com)