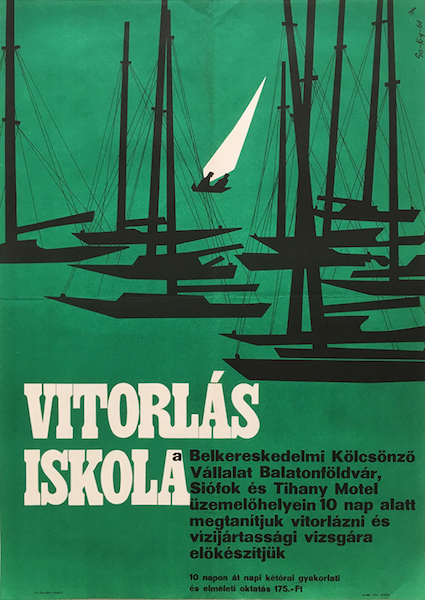 Sailing school
Hungarian title:
Vitorlás iskola
Size:
B2 (cca. 50 x 70 cm)
Condition:
Fine, fold marks.
Price: $600
Description:
"We will teach you how to sail in 10 days and we will prepare you for the aquatic proficiency test at the operating locations of The Domestic Trade Rental Company Balatonföldvár, Siófok and Motel Tihany. 10 days of theoretical and pratical education, 2 hours a day for 175 Forints."
The design is a decorative stylized composition where the impression of a calm atmosphere is created by the deep green background and the silhouettes of the boats. The artists applied only three colours: green, black and white. The white shapes pop out from the darker environment, the strong contrast draws the attention to the maost important information: the boat that is actually sailing and the name of the school. The rest of the boats are a lot bigger in size, however, have less emphasis due to their black color. They are standing still in the dock. The white sails are perfectly balanced with the title written in white as well.