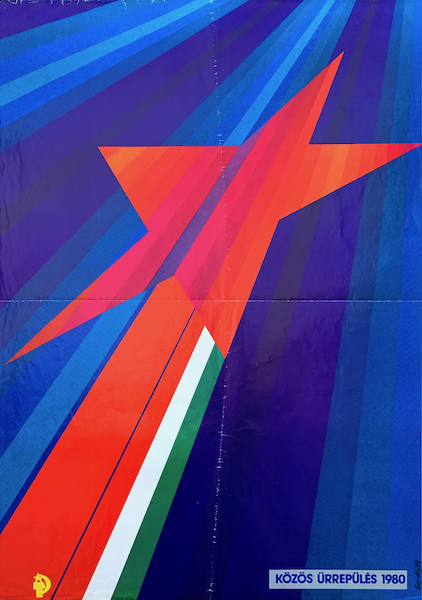 Soviet - Hungarian Joint Space Flight 1980
Hungarian title:
Szovjet - Magyar Közös Űrrepülés 1980
Size:
B1 (cca. 70 x 100 cm)
Condition:
Fine, strong fold marks and wear, small tears and some creasing.
Material:
Paper, offset lithography.
Price: US$1200
Description:
Soviet - Hungarian joint space flight 1980 - Soyuz is a 1979 vintage Hungarian event propaganda poster designed by So-Ky.
Soyuz 36 was launched 26 May 1980 with Valery Kubasov and Hungarian cosmonaut Bertalan Farkas, headed to the Salyut 6 space station. The flight was originally scheduled for 5 June 1979, but was cancelled due to the Soyuz 33 failure. That is why we see on the poster an original script under the title (Közös űrrepülés 1979).
The Soyuz successfully docked at the aft port the day after launching. The flight was the fifth Intercosmos flight whereby guest cosmonauts from Soviet allied nations would visit the space station, typically for about a week. The flight was only the second time a Soviet mission had a civilian commander. Upon boarding, the visiting crew carried out Hungarian experiments, so many that the visiting crew sometimes only got three hours of sleep.
Farkas was said by the Hungarian press to have adjusted far quicker than Kubasov to the weightless conditions. The Soyuz craft was used to boost the station's orbit on 29 May, then Kubasov and Farkas swapped Soyuz craft with the long-duration crew, exchanging seat liners, pressure suits and personal items, before departing the station in Soyuz 35. The Soyuz 36 spacecraft was later used to return the crew of Soyuz 37 to earth. (source: wikipedia.org)