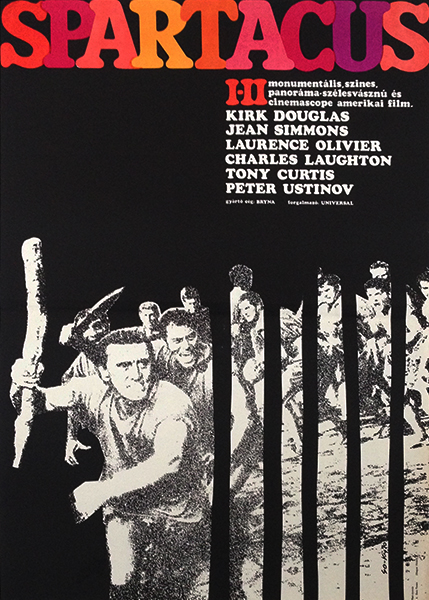 Spartacus
Hungarian title:
Spartacus plakát
Size:
A1 1 Sheet (cca. 59 x 84 cm)
Condition:
Fine, light fold marks and creasing.
Material:
Paper, offset lithography.
Price: US$600
Description:
Spartacus is a 1970 vintage Hungarian first release movie poster designed by So-Ky.
Spartacus is a 1960 American epic historical drama film directed by Stanley Kubrick. The screenplay by Dalton Trumbo was based on the novel of the same title by Howard Fast. It was inspired by the life story of the leader of a slave revolt in antiquity, Spartacus, and the events of the Third Servile War.
The film starred Kirk Douglas as Spartacus, Laurence Olivier as the Roman general and politician Marcus Licinius Crassus, Peter Ustinov, who won an Academy Award for Best Supporting Actor, as slave trader Lentulus Batiatus, John Gavin as Julius Caesar, Jean Simmons as Varinia, Charles Laughton as Sempronius Gracchus and Tony Curtis as Antoninus. Douglas, whose Bryna Productions company was producing the film, removed original director Anthony Mann after the first week of shooting.
Kubrick, with whom Douglas had worked before, was brought on board to take over direction. It is the only film directed by Kubrick where he did not have complete artistic control. Screenwriter Dalton Trumbo was blacklisted at the time as one of the Hollywood Ten. Douglas publicly announced that Trumbo was the screenwriter of Spartacus, and President-elect John F. Kennedy crossed American Legion picket lines to view the film, helping to end blacklisting.
The author of the novel on which it is based, Howard Fast, was also blacklisted, and originally had to self-publish it. The film won four Academy Awards in all and became the biggest moneymaker in Universal Studios' history, until it was surpassed by Airport (1970). In 2017, it was selected for preservation in the United States National Film Registry by the Library of Congress as being "culturally, historically, or aesthetically significant". (source: wikipedia.org)