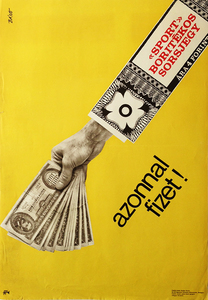 Sport Lottery Ticket
Hungarian title:
Sport borítékos sorsjegy
Size:
B2 (cca. 50 x 70 cm)
Condition:
Fine, one horizontal fold mark, creases and small tears along the border.
Price: $120
Description:
The simple design shows a replica of a lottery ticket and the price of one ticket: 4 Forint. According to the advertisement the lottery paid immediately. The designer is Endre Bánó, who often incorporated photography to his graphic designs. He mostly created posters for commercial purposes.