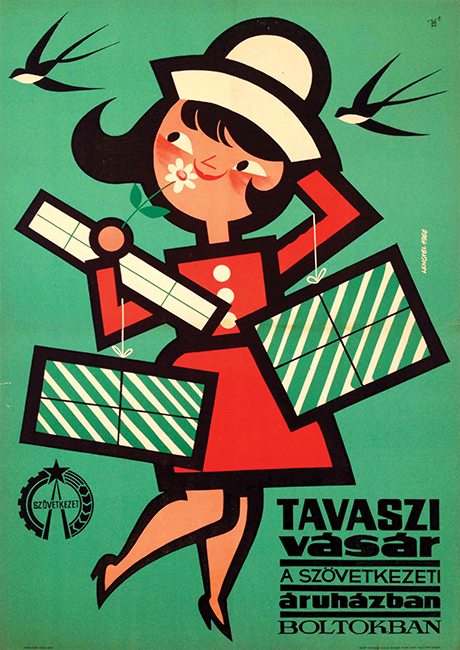 Spring Fair
Hungarian title:
Tavaszi Vásár
Size:
A1 1 Sheet (cca. 55 x 84 cm)
Condition:
Fine, restored.
Price: $1000
Description:
This outstanding poster advertised the spring fair in the shops of the Co-operative Society in 1966.
Lengyel was an important poster artist with a unique tone. Despite posters having a humorous style was a common thing in the 1950s and 60s, Lengyel still managed to create a playful manner of his own. The slowly growing economy of the 1960s gave most of the comissions for Sándor Lengyel: he worked for big companies, well known brands, and state owned department stores.
This design represents Sándor Lengyel's poster style at its peak. He preferred the cartoon-like drawn figures, who appear in a colorful composition. These cheerful figures emphasized the advantages of the product by creating a joyful and carefree atmosphere. The lovely woman figure visible in this poster with many bags represents the fun of shopping. The use of simple, geometrical shapes, flat plains, strong contours and vivid colours contribute to a recognizably modern, own style of Lengyel. At the same time, the contrast of red and green makes this composition very decorative and dynamic.
It is remarkable that the artist created another poster for the event in the same year which was also issued. It had a really similar composition and character, but it captured a bunny. Both works are prominent and lovely commercial designs from the 1960s.