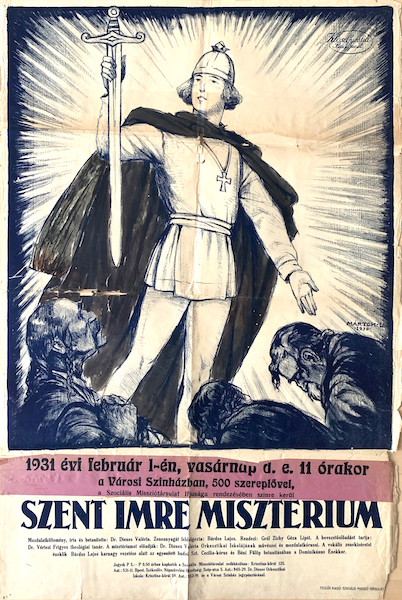 Description:
St. Imre's Mystery Play is a 1931 vintage Hungarian event advertising poster designed by Lajos Marton in 1930.
On Sunday, February 1, 1931, at 11 a.m. at the Town Theater, with 500 actors
Staged by the Youth Mission of the Social Mission Society
St. Imre Mystery
Movement poetry
Written and taught by: dr. Valeria Dienes
The music was processed by: Lajos Bardos
Directed by: Count Geza Lipot Zichy
Lajos Marton (1891 - 1953) was a graphic artist, painter and illustrator. He studied in Budapest at the School of Applied Arts. He worked as an illustrator for the journal Zászlónk (Our flag). He was closely associated with the Scout Movement, and designed many posters for them.