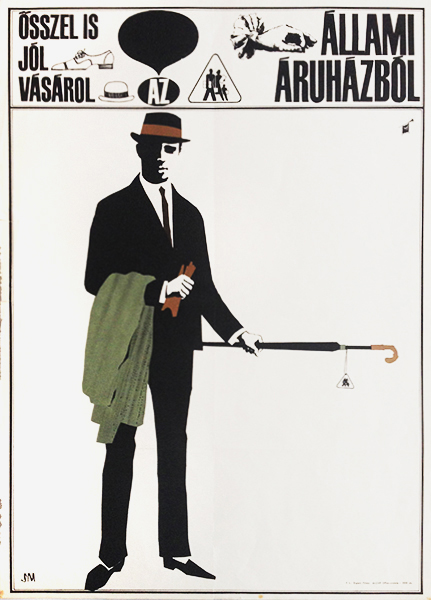 State Department Store
Hungarian title:
Ősszel is jól vásárol az Állami Áruházból
Size:
A1 1 Sheet (cca. 55 x 84 cm)
Condition:
Fine. Minor paper loss along the left border.
Price: $240
Description:
Shopping is easy in autumn as well in the State Department Store. Pure and elegant design in order to promote men's fashion.
The poster bears the typical characteirstics of the style of its author, Margit Sándor. She studied from the greatest masters of Hungarian poster art, for example György Konecsni. Her style was very unique and this piece is an example for Sándor's designs where she applied a strong contrast, what she often did. As for the typography, genarally she either used calligraphic typefaces or simple, constructivist ones. On this poster we can see an example for the lattter one.
Publisher information: Budapest, Englert Mihály, 1966, Offset-nyomda, 3000 copies.