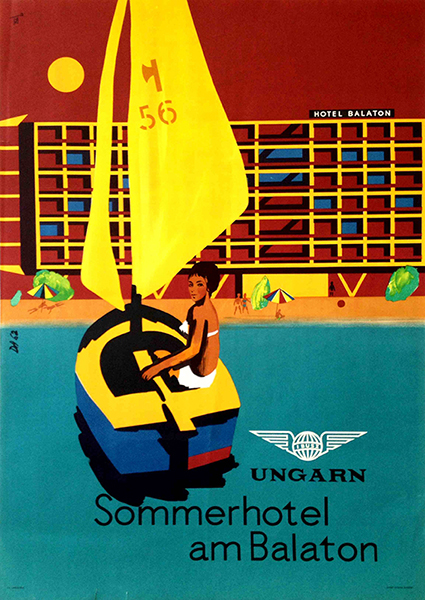 Summer Hotel on the shore of Lake Balaton
Hungarian title:
Hotel Balaton a tó partjánál - IBUSZ plakát
Size:
A1 1 Sheet (cca. 55 x 84 cm)
Condition:
Fine, light fold marks, two small tears at the bottom.
Price: $1200
Description:
Original Hungarian vintage travel poster from 1962 by Árpád Darvas.
Beautiful travel poster for the Hungarian Bus Company, Ibusz. The poster advertises Lake Balaton as one of the most important travel destinations in Hungary.
Lake Balaton is a freshwater lake in the Transdanubian region of Hungary. It is the largest lake in Central Europe, and one of the region's foremost tourist destinations. It is located in central Hungary, about 50 miles (80 km) southwest of Budapest. It has an area of 231 square miles (598 square km) and extends for 48 miles (77 km). The mountainous region of the northern shore is known both for its historic character and as a major wine region, while the flat southern shore is known for its resort towns.
While a few settlements around Lake Balaton, including Balatonfüred and Hévíz, have long been resort centres for the Hungarian aristocracy, it was only in the late 19th century that the Hungarian middle class began to visit the lake. Later the construction of railways in 1861 and 1909 increased tourism substantially, but the post-war boom of the 1950s was even much larger.
(sources: www.britannica.com, www.thelonelyplanet.com)
The poster is a great example of how the style of Pop Art inspired the Hungarian poster design in the 1960's and the 1970's. This design is a spectacular composition with vivid colors and modern shapes. However, the everyday visual culture was a bit different at the time: as a reminder, a typical cube house of the Socialist era appears in the background. At the same time, the boring facade appears here like a modern artwork.
The creator of the poster was Árpád Darvas, one of the most important poster artists in the generation that started in the 1950's and later renewed the local poster art in the 1960s. Darvas was a pioneer as he was one of the first artists who introduced Pop Art to Hungary. His works betray a unique and archetypal quality.
This poster is a fine, decorative design by Darvas, from 1962.