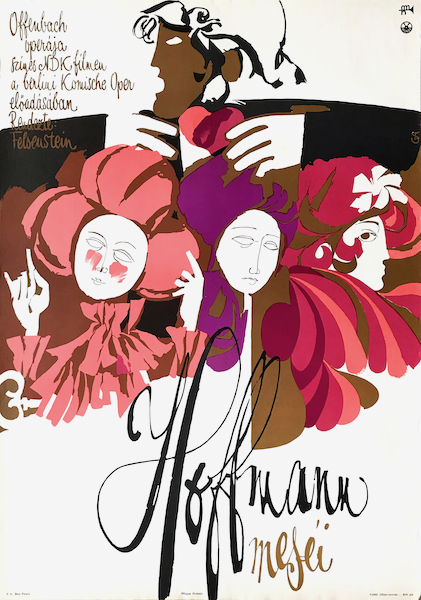 Tales of Hoffmann, The
Hungarian title:
Hoffmann meséi
Size:
A1 1 Sheet (cca. 55 x 84 cm)
Condition:
Fine, light wear.
Material:
Paper, offset lithography.
Price: $600
Description:
The Tales of Hoffmann is a 1971 vintage Hungarian movie poster designed by Antal Gunda.
Hoffmanns Erzählungen is a 1970 East German opera film.
Director: Walter Felsenstein
Writer: Walter Felsenstein
Stars: Melitta Muszély, Hans Günter Nöcker
(source: imdb.com)
The Tales of Hoffmann (French: Les contes d'Hoffmann) is an opéra fantastique by Jacques Offenbach. The French libretto was written by Jules Barbier, based on three short stories by E. T. A. Hoffmann. Hoffmann is the protagonist in the opera. Barbier and Michel Carré had previously written a play, Les contes fantastiques d'Hoffmann, which was produced at the Odéon Theatre in Paris in 1851, and which Offenbach had seen. The stories used in the opera were: "Der Sandmann" ("The Sandman"), 1816. "Rath Krespel" ("Councillor Krespel", also known in English as "The Cremona Violin") 1818. "Das verlorene Spiegelbild" ("The Lost Reflection") from Die Abenteuer der Sylvester-Nacht ("The Adventures of New Year's Eve"), 1814. (source: wikipedia.org)