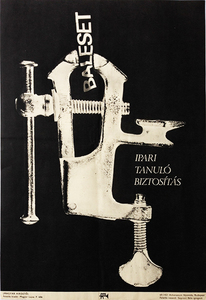 Technical Student Insurance
Hungarian title:
Ipari Tanuló Biztosítás
Size:
B2 (cca. 50 x 70 cm)
Condition:
Fine, light fold marks and wear.
Price: $200
Description:
The black and white poster of Károly Schmal is simple but very felicitous. The clamp grips the word 'ACCIDENT' and is about to smash it. To avoid the unpleasant consequences of such everyday accidents in the workshops, students better take out insurance.
The author of the poster, Károly Schmal, was a very unique, talented and autonomous figure of the Hungarian poster art scene who created numerous memorable pieces.