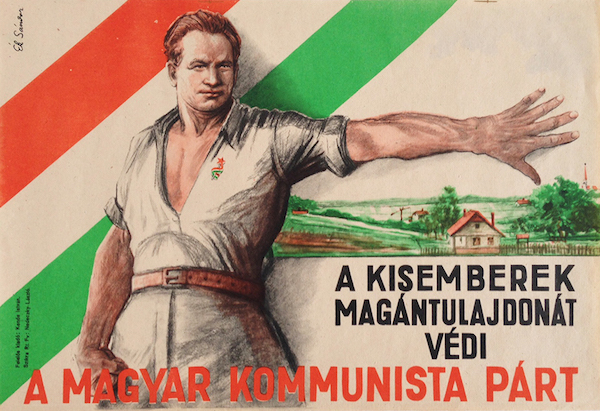 The Hungarian Communist Party protects the common man's properties
Hungarian title:
A kisemberek magántulajdonát védi a Magyar Kommunista Párt
Size:
Double Tram poster (cca. 24 x 34 cm)
Price: $320
Description:
In 1945 and 1947, two democratic elections took place in Hungary – for the first time, and for the last until 1990, (In 1947, the communists influenced the results of the election afterwards.). Several leftist parties used the poster art for their propaganda purposes. Sándor Ék (Alexander Keil) – the recently returned Bolshevik artist from the Soviet Russia– promotes the Communist Party with an impressive worker figure that can be originated from Mihály Biró's art. The figure wears the emblem of the Hungarian Communist Party, a red flag with red star, which is Sándor Bortnyik's work.