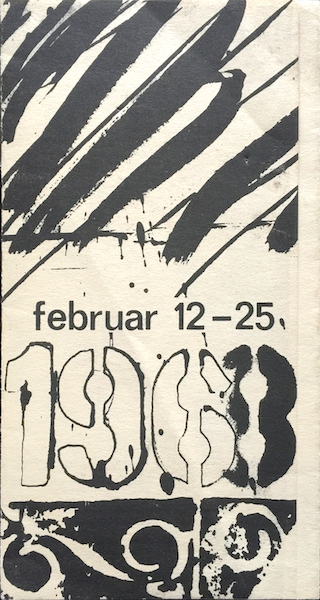 The older and the young generation exhibition
Hungarian title:
Az idõsebb és a fiatal generáció - Bak Imre, Tót Endre, Csiky Tibor, Gyarmathy Tihamér, Veszelszky Béla, Hencze Tamás, Korniss Dezsõ - Mûszaki Egyetem Vásárhelyi Pál Kollégium, Budapest
Size:
A4 (cca. 21 x 29 cm)
Condition:
Fine, light wear.
Price: $400
Description:
The older and the young generation - Exhibition of Imre Bak, Endre Tot, Tibor Csiky, Tihamer Gyarmathy, Bela Veszelszky, Tamas Hencze, Dezso Korniss is a 1968 vintage Hungarian invitation designed by Endre Tot.
Exact size: when closed 9,6 x 18,3 - when opened: 28,1 x 18,3 cm.