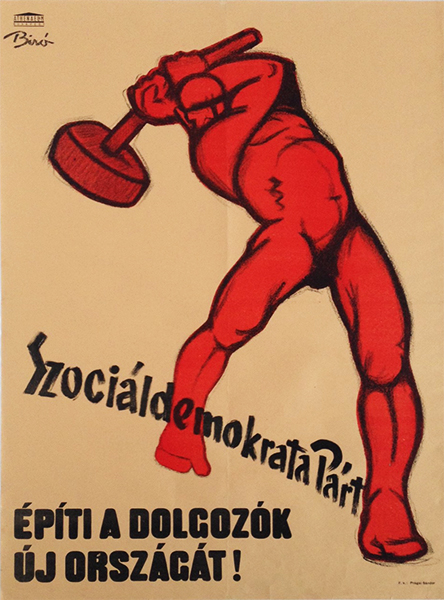 The Social Democratic Party Builds the New State of the Workers!
Hungarian title:
Szociáldemokrata Párt építi a dolgozók új országát!
Size:
A1 1 Sheet (cca. 55 x 84 cm)
Condition:
Fine. Fold marks, small tears along the borders, pencil marks.
Material:
Paper, lithography.
Price: $8000
Description:
This is an impressive propaganda poster by the world famous Hungarian poster artist Mihály Biró. He used his well known symbol, the red hammer wielding man. The figure was the emblem of the Social Democratic Party since Biró's Népszava poster, which was published in 1912. The symbol embodies the strong working class which finally rises against its suppressors. This was one of the first political posters of him which became really renowned. Moreover, Biró is considered to be the founder of the political poster as a new artistic genre.
Biró played an important role in the art life of the Hungarian Soviet Republic in 1919 thus following the fall of the regime he had to emigrate. After spending decades abroad (in Vienna, Berlin and Paris) he returned home in 1947. He was suffering from a serious illness, and died in 1948. The last years brought him appreciation and success. This election poster is one of his last works.
The poster was printed for the election of 1947. This was the last election before the communists took completely over, when people in Hungary were allowed to choose from more than one party. The one-party system was introduced in 1949, when the Social Democrats already lost their independence. In 1947 people could choose, however, the result of the election was adulterated by the communists.
The Hungarian parliamentary election of 1947, which later became infamously the "blue-ballot" elections, was held on 31 August 1947.
The Hungarian Communist Party, which had lost the previous election, consolidated its power in the interim using salami tactics. This fact, combined with the weakening of the opposition and a revised electoral law, led to further Communist gains. It was Hungary's last remotely competitive election before 1990.
(source: wikipedia.org)
The artistic and the historical value are what make this poster a very important piece.