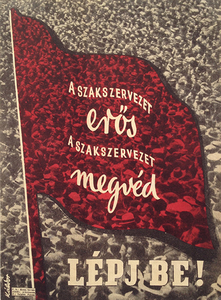 The Union is strong, join!
Hungarian title:
A szakszervezet erős, lépj be!
Size:
Tram poster (cca. 17 x 24 cm)
Price: $400
Description:
'The Union is strong. The Union protects you. Join!'
Spectacular propaganda poster from 1945.
The rare, early photomotage tram poster of Lászlo Káldor evokes the presence of the opressed masses, and uses a red flag as the symbol of the workers union which is towering over them protectively.