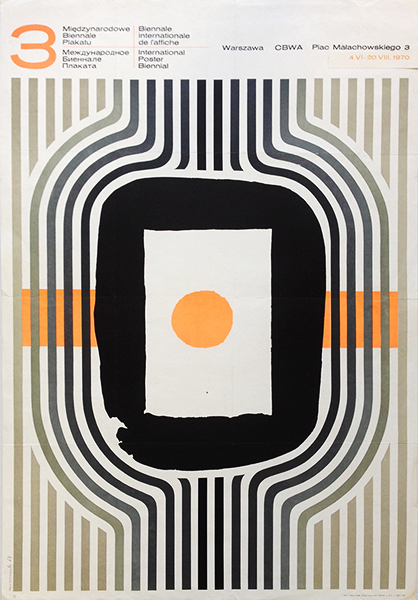 Third International Poster Biennale Warsaw
Hungarian title:
3. Nemzetközi Plakát Biennále Varsó
Size:
B1 (cca. 70 x 100 cm)
Condition:
Fine, fold marks, a few small tears along the border.
Price: $280
Description:
Decorative poster by a Polish graphic designer, Józef Mroszczak who was a representative of the Polish School of Posters. The first poster Biennale was created in 1966. The idea of periodic international review achievements in the field of poster art was first proposed by Polish graphic designers in the beginning of the sixties. The man who inspired the project and was its first organizer is the designer of this poster, Józef Mroszczak. (source: http://varsovie.hypatie.com/english/biennale/history)
Polish poster for the 3rd international Poster Biennale, that was held in Warsaw, Poland in 1970. Polish poster design is very unique and internationally acclaimed, just like Hungarian poster art. The two nations have some similarities in the history of their poster art's development, however, both have its own tone.
This poster in clean and simple, resembling op-art style. The black and white stripes are completely parallel and even but dues to the alternation of faded and strong colours, as well as to the irregular shape of the black frame of the white square with an orange dot, the stripes look as if they were fluttering. The monochrome design is spiced with the bright dot in the middle and the stripe of the same colour at the background.
The title of the event on the top is written in four languages: English, French, Russian and Polish. Next to it, the time and place of the exhibition is displayed.