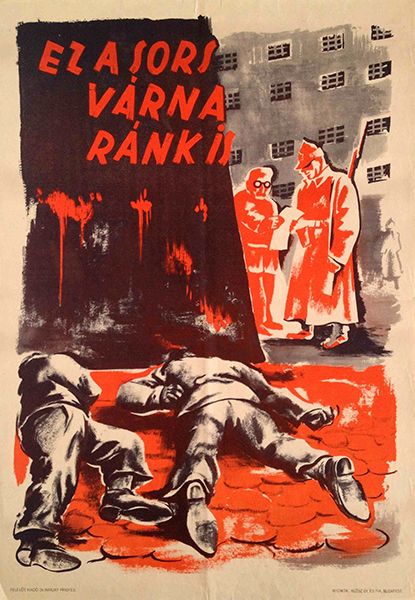 This would be our fate too!
Hungarian title:
Ez a sors várna ránk is!
Size:
A1 1 Sheet (cca. 55 x 84 cm)
Condition:
Fine, light fold marks and wear, a few small tears.
Price: $1600
Description:
An anti-Semitic and anti-Soviet poster. A person with stereotypical Jewish facial features is standing next to a Soviet Russian soldier and they are looking at a sheet of paper, which presumably contains the list of people who they are planning to execute, like the two bodies which can be seen in the front, where they've been shot to death lined up against a wall.
It was probably commissioned by the Arrow Cross Party (the Hungarian extreme right party of the time). The artist is unknown.
In the lower right corner there is the name of the printing house: "Klösz Gy és fia Budapest". Klösz was one of the most important printing houses.
In the lower left corner the text is: F.k.: Dr. Marjay Frigyes. F.k. stands for "Felelős kiadó", which means the "publisher who is responsible" for the posters content. Frigyes Marjay was a far-right writer.