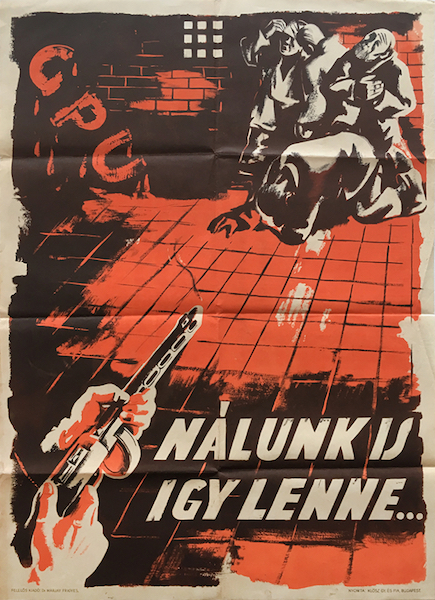 This would be our fate too... - by the hands of the GPU State Political Directorate
Hungarian title:
Nálunk is így lenne... GPU
Size:
A1 1 Sheet (cca. 55 x 84 cm)
Condition:
Fine, fold marks, light wear & some creasing.
Material:
Paper, offset lithography.
Price: $2400
Description:
This poster was printed as the Soviet Red Army approached Budapest, and the far-right, anti-Semitic Arrow Cross party, which was put in charge by Nazi Germany, commissioned these posters to prepare the members of the party and collaborating citizens, what fate would await them if they don't stop the Russian troops from taking Budapest. GPU (later OGPU) was the Soviet secret police. The poster implies that the members of the Arrow Cross Party and collaborating soldiers and citizens would be executed if the Red Army would took over Budapest.