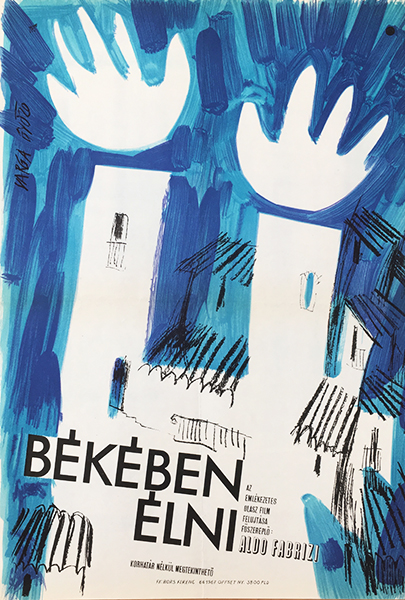 To Live in Peace
Hungarian title:
Békében élni
Size:
A2 1/2 Sheet (cca. 42 x 59 cm)
Condition:
Fine, light fold marks and wear.
Price: $240
Description:
Poster for the re-release of the Italian black and white war movie, To Live in Peace, starring Aldo Fabrizi. Original title is Vivere in pace.
Although no longer very well known outside of Italy, To Live in Peace did had a substantial art house success and critical acclaim at the time of its release in the United States. The film is a tragicomedy about life on a farm at the time of the German occupation of Italy and the effect of wartime events on the small town near it. (source: imdb.com). Gyozo Varga's composition is very decorative. It shows the buildings of a town arranged in a way that they look like a man with hands stuck up. The artist liked using strong contrasts, intense brushwork and flat shapes which are all apparent on this lovely piece.