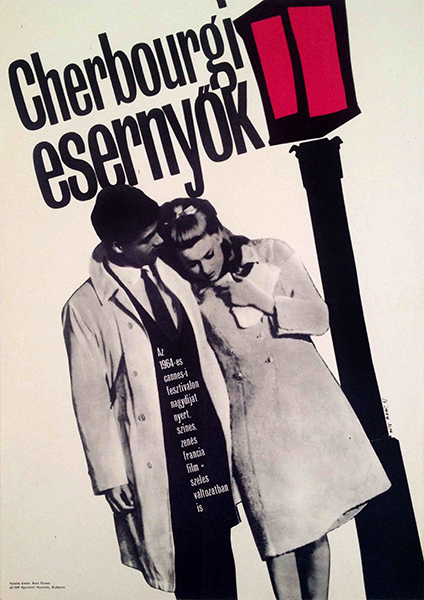 Umbrellas of Cherbourg
Hungarian title:
Cherbourgi esernyők
Size:
A1 1 Sheet (cca. 55 x 84 cm)
Condition:
Fine. Some creasing, fold marks, stains and a few small tears.
Material:
Paper, intaglio.
Price: $800
Description:
Poster for the first release of the movie in Hungary.
Outstanding movie poster by András Máté, one of the leading Hungarian poster artists of the 1960s.
The Umbrellas of Cherbourg (French: Les Parapluies de Cherbourg) is a 1964 French musical film directed by Jacques Demy, starring Catherine Deneuve and Nino Castelnuovo. The music was written by Michel Legrand. The film dialogue is all sung as recitative, even the most casual conversation. (source: wikipedia.org)