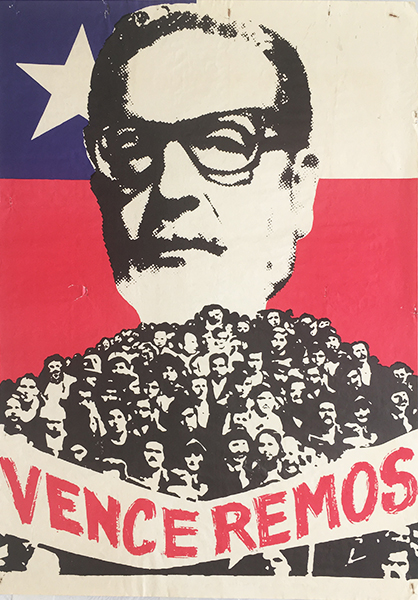 Venceremos - We Will Overcome
Hungarian title:
Győzni fogunk
Size:
A1 1 Sheet (cca. 55 x 84 cm)
Condition:
Very good, stains, small tears, pinholes.
Price: $400
Description:
'Venceremos.' spectacular Pop Art political poster in black, white, red and blue.
The design is a concentrated composition of the Chilean flag in the background, the face of Salvador Allende in the centre, and a crowd symbolizing the Chilean people in the foreground. The strong contrast of black and white is created by the use of "burned" photography.
"Salvador Allende was a physician and politician, known as the first Marxist to become president of a Latin American country through open elections.
Allende's involvement in Chilean political life spanned a period of nearly forty years. As a member of the Socialist Party, he was a senator, deputy and cabinet minister. He unsuccessfully ran for the presidency in the 1952, 1958, and 1964 elections. In 1970, he won the presidency in a close three-way race. He was elected in a run-off by Congress as no candidate had gained a majority."
(source: wikipedia.org)