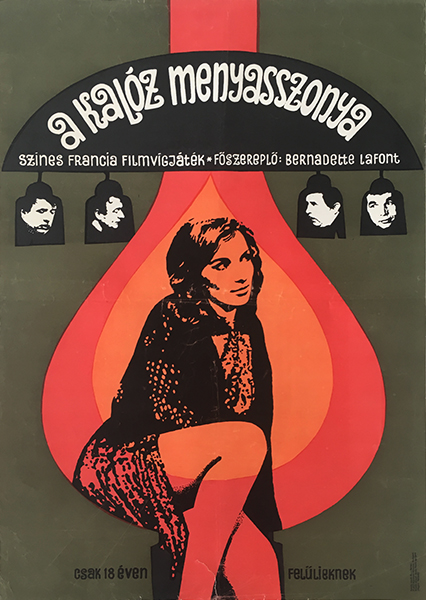 Very Curious Girl, A
Hungarian title:
A kalóz menyasszonya
Size:
A1 1 Sheet (cca. 55 x 84 cm)
Condition:
Fine, light fold marks and wear.
Material:
Paper, intaglio.
Price: US$280
Description:
A Very Curious Girl (French: La Fiancée du pirate) is a 1969 French comedy-drama film directed, edited and co-written by Nelly Kaplan. Other English titles are "Dirty Mary" and "Pirate's Fiancée". Marie is a young woman who lives in sheer poverty in the fictional village and commune of Tellier (an allusion to La Maison Tellier) with her mother, a woman of obscure origins suspected to be a Romanichel sorcerer, and her pet buck. Marie and her mother are despised by the locals although Marie is also a sexual object for them, including her lesbian boss Irène. One day, when her mother dies after a hit-and-run accident and the locals do not even care to bury her, Marie decides that things have to change and starts to charge people who have sex with her. Eventually, she plans to take revenge on those people who take advantage of her. (source: wikipedia.org).
The poster successfully depicts the psychological complexity of the film in a single image.