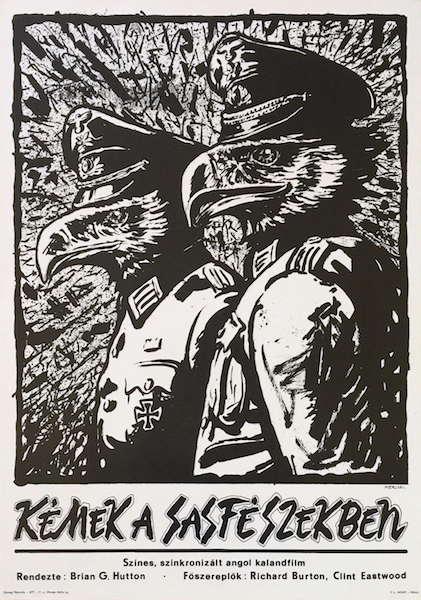 Where Eagles Dare
Hungarian title:
Kémek a sasfészekben
Size:
B2 (cca. 50 x 70 cm)
Price: $1000
Description:
Where Eagles Dare is a 1988 Hungarian vintage first release movie poster designed by Peter Merczel.
Where Eagles Dare is a 1968 British World War II action film from Metro-Goldwyn-Mayer that stars Richard Burton, Clint Eastwood and Mary Ure. It was directed by Brian G. Hutton and shot on location in Austria and Bavaria. Alistair MacLean wrote the novel of the same name and the screenplay at the same time. It was his first screenplay; both film and book became commercial successes.
The film involved some of the top moviemaking professionals of the day and is now considered a classic. Major contributors included Hollywood stuntman Yakima Canutt, who as second-unit director shot most of the action scenes; British stuntman Alf Joint who doubled for Burton in such sequences as the fight on top of the cable car; award-winning conductor and composer Ron Goodwin, who wrote the film score; and future Oscar-nominee Arthur Ibbetson, who worked on its cinematography. The film is noted for the phrase "Broadsword calling Danny Boy", spoken by Richard Burton several times throughout. The phrase is frequently used by Richard Burton impressionists. (source: wikipedia.org)