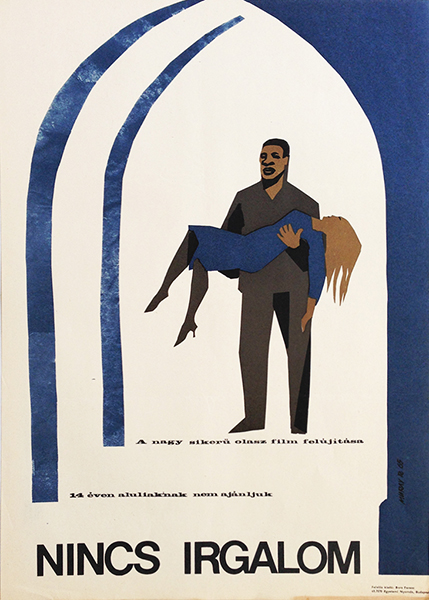 Without Pity
Hungarian title:
Nincs irgalom
Size:
A2 1/2 Sheet (cca. 42 x 59 cm)
Condition:
Fine. Very light vertical and horizontal fold marks, discolouration on the lower border.
Price: $160
Description:
Without Pity is a 1948 Italian film directed by Alberto Lattuada from a script by the director himself, Federico Fellini and Tullio Pinelli, from an original story by Ettore Margadonna. As World War II ends, African-American army sergeant Jerry Jackson is stationed in Italy. Local gangsters want to use him as a conduit to obtain supplies that the military has access to which can then be sold on the black market, but Jerry remains honest and has refuses their attempts to bribe him. Soon however, he falls in love with Angela, an Italian woman who had earlier helped save his life and who now finds herself stranded in the area in a fruitless attempt to find her brother. Realizing that Angela is perilously close to having to turn to prostitution, Jerry relents and makes a deal with the gangsters, hoping to make enough money to support Angela. After he is caught and jailed, Jerry escapes from his prison camp and deserts, searching for a way that he and Angela run away to be together. (source: wikipedia.org).
The poster was designed for the renovated version of the film in 1965. The clean design and the deepness of the colours contribute to the haunting atmosphere of the poster.