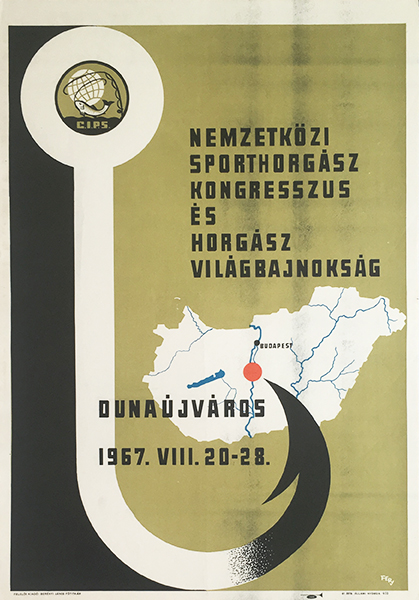 World Freshwater Angling Championships and International Fishing Congress
Hungarian title:
Nemzetközi Sporthorgász Kongresszus és Horgász Világbajnokság
Size:
B2 (cca. 50 x 70 cm)
Condition:
Fine, light fold marks and wear, black marks from an error in the printing process.
Price: $400
Description:
Poster designed by Antal Fery for a fishing competition organized in Dunaújváros (formerly known as Dunapentele and Sztálinváros) which is an industrial city in Fejér County, Central Hungary. The city is best known for its steelworks, which is the largest in the country. Dunaújváros is one of the newest cities of the country. It was built in the 1950s during the industrialization of the country under Socialist rule, as a new city next to an already existing village, Dunapentele.
The designer of this poster, Antal Fery incorporated the logo of the international organization for sport fishing with a huge hook and Hungary's map. Thanks to this clever idea, he was able to create a compact and impressive poster for the International Fishing Congress and World Cup which contained all important infprmation related to the event in a sole picture.