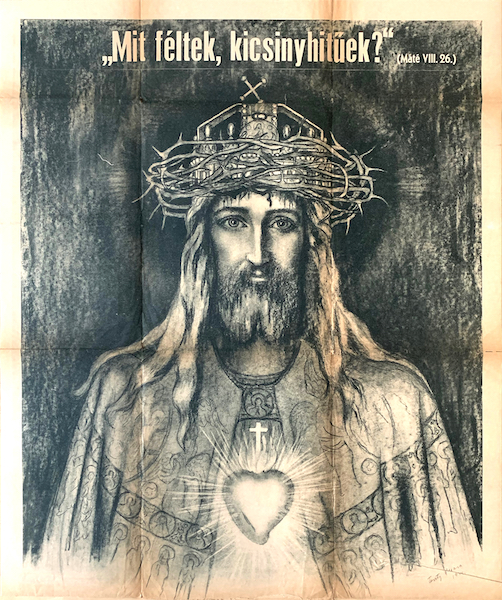 Description:
"You of little faith, why are you so afraid?" is a 1944 vintage Hungarian WW2 propaganda poster designed by Masa Feszty.
Size: 59,5 x 72 cm
An article from the Hungarian newspaper, Esti Ujság, 10/30/1944 / no. 246.:

Béla Ladomérszky, a minorite priest a fighter for Hungarian National Socialism, said in a Sunday radio broadcast:

October gave us not the message of our passing away, but the promise of a new life. We see the budding of the rich corn of the coming year among the yellowing foliage. We look at the Hungarian land with the eyes of the Hungarian peasant, where secret forces swell, the eternal forces of nature.

Throughout history, the heroic blood of the Hungarian nation has been a barrier to the dirty tide from the East, which is seeking to destroy the Christian faith and Christian culture. And Christ the King has always won within us and by us. Today, not alone, but in a new European community, we must fight the new paganism of gold and matter.

Hear and acknowledge all who, out of cowardice, were willing to betray Christ the King for the Judas of Bolshevism, hear and acknowledge that atheism can never prevail over the faith in God. Christ the King can never be defeated by Satan!

We must win. Because we can win! Hungarism created the personal and material conditions for this victory. The Hungarist state wants to and will fight its just fight against Bolshevism with men of Christ.

A gospel image strikes me. In a sea of ​​roaring storm, a small ship is thrown and the Master is resting in it. Many are desperate, unable to fight and turn to Jesus in terror. The Master looks at them gently: "You of little faith, why are you so afraid?"

You of little faith, why are you so afraid? - we are right to ask, in the knowledge of our victory, thrrough every fluctuation, any doubt. We are fighting for the right cause, we cannot fall. We fight for the faith of Christ, the enemy cannot prevail! Let all the Hungarians line up for the calling of the Nation and the Church!