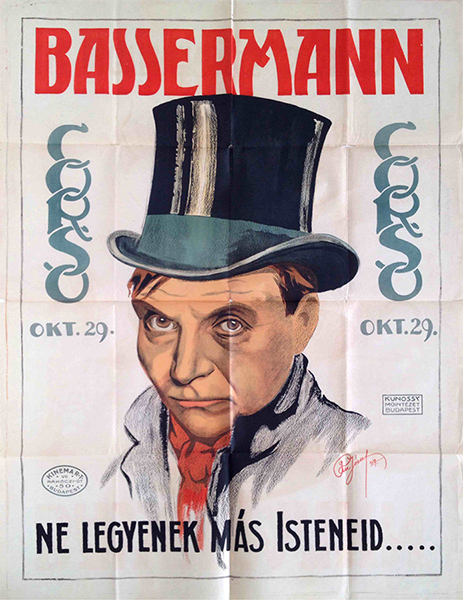 You Should Have No Other Gods!
Hungarian title:
Ne legyenek más isteneid
Size:
Pre-war 2 Sheet (cca. 95 x 126 cm)
Condition:
Fine, fold marks, light wear, small tears.
Material:
Paper, stone lithography.
Price: $1600
Description:
Poster from the early period of cinema history. The poster was made for a silent movie in 1917, 'You should have no other gods'. The original title was: 'Du sollst keine anderen Götter haben'. The film was written by Else Bassermann who also starred it. She was the wife of Albert Bassermann, the famous star who played the main character of the film.
Albert Bassermann was one of the first great German stage actors who worked for the cinema. In 1933 he fled the Nazi regime and became an Oscar nominated stage actor in Hollywood. He started his acting career in 1887 in Mannheim, but later he worked for Otto Brahm and also with Max Reinhardt at the Deutches Theater in Berlin. He appeared in films from 1913, and worked with silent film directors like Richard Oswald or Ernst Lubitsch. He lived in the United States from 1938. For his performance as the Dutch statesman Van Meer in Alfred Hitchcock's Foreign Correspondent, Bassermann was nominated for an Academy Award as Best Supporting Actor in 1940. He returned to Europe in 1946. His final film appearance was in The Red Shoes.
(source: imdb.com)
The poster design was created by Jozsef Pan, a talented graphic designer. His work follows Hungarian Art Noveau style that was very popular at the time.
Bassermann's characteristicly sinister face appears in the centre. He is depicted in a cylinder and an elegant coat with a scarf. The drawing and the typography are both very decorative and typical of the period. 'Bassermann' can be seen above, the film title is placed beneath, and the script 'Corso 29th of October' appears on both sides of the composition. This text referred to when and where the film was presented in Hungary.
The poster is a decorative relic of the early cinema and poster art.