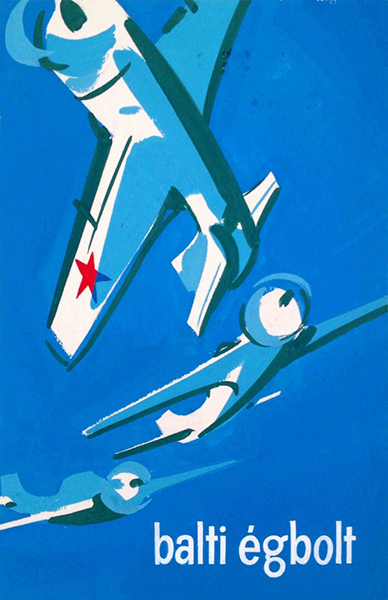 Baltic Skies
Hungarian title:
Balti égbolt
Artist:
Size:
Gunda, Antal
A5 1/16 Sheet (cca. 15 x 21 cm)
Year:
Condition:
1961
Mint.
Material:
Paint on cardboard.
Price: $500
Description:
Baltic Air poster design with warplanes by Gunda Antal from 1961.
The design is very fresh, modern and decorative, painted in an expressive manner. The colours are vivid and harmonic, the script is hand painted, and shows a decorative typography.
This is a design for a movie poster, which was never published, it has the jury's stamp "Nem javasoljuk" ("We do not recommend"). "Baltic Skies" Part 1 and 2 are Soviet war movies from 1960. (Original title: Baltiyskoe nebo).
Size: 14 x 21 cm