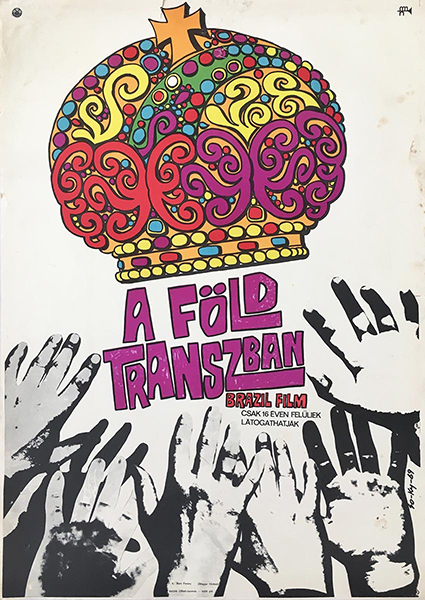 Entranced Earth
Hungarian title:
A föld transzban
Artist:
Size:
So-Ky
A1 1 Sheet (cca. 55 x 84 cm)
Year:
Condition:
1969
Fine, light creases, stains along the border.
Material:
Paper, offset.
Price: $200
Description:
Photomontage and drawn composition for a 1967 Brazilian drama film, Entranced Earth (Portuguese: Terra em Transe) directed by Glauber Rocha. It was shot in Parque Lage and at the Municipal Theatre of Rio de Janeiro.
Eldorado, a fictitious country in Latin America, is sparkling with the internal struggle for political power. In the eye of this social convulsion, the jaded journalist Paulo Martins opposes two equally corrupt political candidates: a pseudopopulist and a conservative. In this context, Paulo is torn between the madness of the elite and the blind submission of the masses. But, in this complex tropical reality, nothing really is what it seems to be. (source: imdb.com)