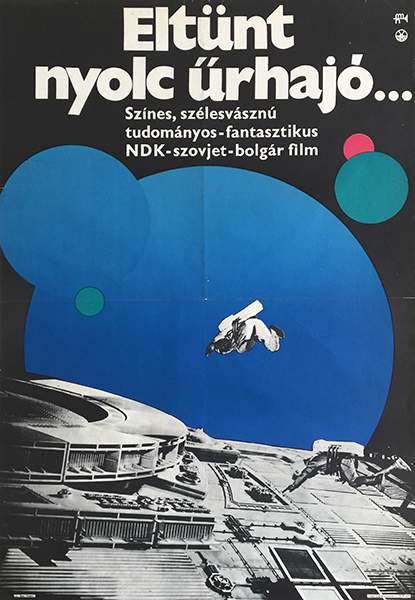 Eolomea
Hungarian title:
Eltűnt nyolc űrhajó...
| | |
| --- | --- |
| Artist: | Size: |
| Unknown artist | A1 1 Sheet (cca. 55 x 84 cm) |
| Year: | Condition: |
| 1973 | Very good, fold marks. |
Price: $120
Description:
Eolomea is a 1972 science fiction film directed by Hermann Zschoche, based on a screenplay by Angel Wagenstein. The film was an East German-Soviet-Bulgarian coproduction. Eight spaceships disappear and radio contact to the enormous space station "Margot" is broken off. Professor Maria Scholl and the high council decree a flight ban for all other spaceships. Nevertheless one ship succeeds in leaving earth. The cause of all these strange events is the mysterious signals in Morse code coming to earth from the constellation Cygnus. Deciphered, they say the word "Eolomea," which seems to refer to a planet. With Captain Daniel Lagny, an unmotivated eccentric, Maria Scholl undertakes the risky journey to the space station "Margot" to uncover the secret, only to discover that a secretly planned expedition of stolen spaceships is leaving for Eolomea against the will of the government. (source: wikipedia.org)
The poster shows the detailed black and white pictures of a spaceship, a spaceman in front of green, blue and red monochrome spots in the background. The contrast between the black and white and more vivid colours, or between the detailed and geometric drawings are what give the essence of tis piece.