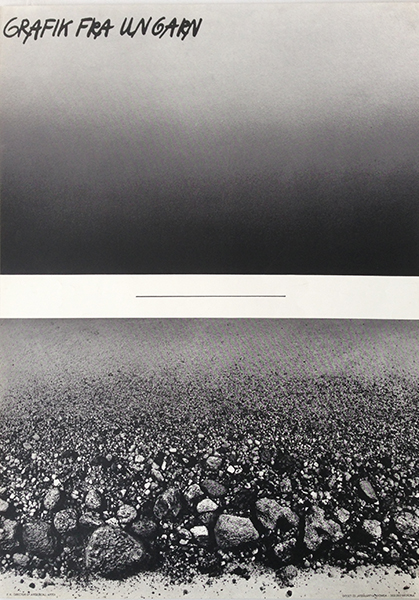 Grafik Fra Ungarn
Hungarian title:
Grafik Fra Ungarn
Artist:
Size:
Schmal, Károly
B2 (cca. 50 x 70 cm)
Year:
Condition:
1970s
Fine.
Material:
Paper, offset.
Price: $400
Description:
Poster for a Hungarian graphic design exhibition in Denmark. There is no information about the time, place and date of the exhibition, but the text is in Danish, therefore we can suppose that the exhibition was organized in Denmark. The printing information tells us that the poster was designed and printed in Hungary.
The monochrome design beautifully depicts the similarities between nature and art. The lower picture shows an endless field of stones and above it, on the top, the colour of the lower picture is captured but without the contour of the stones, hence creating only a transition of colours.
The design was most probably made by Károly Schmal. The motives he applies the most often are shadows with what he aims to depict the act of leaving a trace. His ideology can be traced back to Zen Buddhism. This piece is a very balanced creation with a meditative nature.