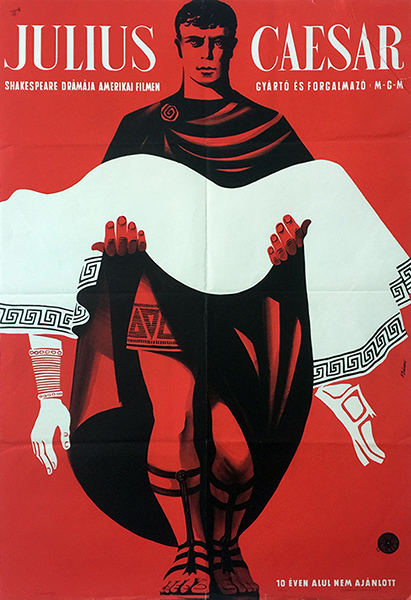 Julius Caesar
Hungarian title:
Julius Caesar
Artist:
Size:
Bánki, László
A1 1 Sheet (cca. 55 x 84 cm)
Year:
Condition:
1961
Fine, light fold marks and small tears.
Material:
Paper, offset.
Price: $500
Description:
Julius Caesar is a 1953 epic Metro-Goldwyn-Mayer film adaptation of the play by Shakespeare, directed by Joseph L. Mankiewicz, who also wrote the uncredited screenplay, and produced by John Houseman. The original music score is by Miklós Rózsa. The film stars Marlon Brando as Mark Antony, James Mason as Brutus, John Gielgud as Cassius, Louis Calhern as Julius Caesar, Edmond O'Brien as Casca, Greer Garson as Calpurnia, and Deborah Kerr as Portia.
The film won the Academy Award for Best Art Direction (Cedric Gibbons, Edward Carfagno, Edwin B. Willis, Hugh Hunt), and was nominated for the Best Actor in a Leading Role (Marlon Brando), Best Cinematography, Black-and-White, Best Music, Scoring of a Dramatic or Comedy Picture and Best Picture. Brando's nomination was the third time in three consecutive years that he was nominated for the Best Actor Academy Award. He was nominated in 1951 for A Streetcar Named Desire and in 1952 for Viva Zapata!. He would win the following year for On the Waterfront. It also won two BAFTA awards for Best British Actor (John Gielgud) and Best Foreign Actor (Marlon Brando). It was also nominated in the Best Film category. Brando won the BAFTA Best Actor award in three consecutive years for Viva Zapata! (1952), Julius Caesar (1953), and On the Waterfront (1954). It won the Best Film and Best Actor Award for James Mason from The National Board of Review. It also won the Golden Leopard at the Locarno International Film Festival. (source: wikipedia.org)