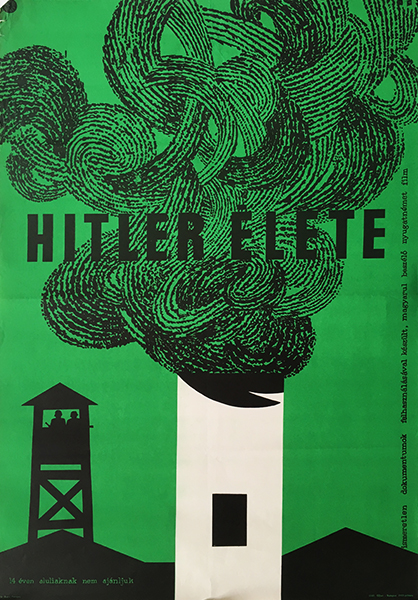 Life of Adolf Hitler
Hungarian title:
Hitler élete
Artist:
Size:
Szilvásy, Nándor
A1 1 Sheet (cca. 55 x 84 cm)
Year:
Condition:
1961
Fine. Horizontal fold marks, paper loss in the top left corner
Material:
Paper, offset.
Price: $300
Description:
The West-German film (original title: Das Leben von Adolf Hitler) carefully chronicles in great detail the early years of Hitler"s life and the events that shaped him into the zealous leader of Germany. This documentary offers a critical insight into the stealthy rise of the Nazi party and how it's racist vision of the world slowly took hold in a disillusioned Germany. (source: imdb.com)
The poster cleverly depicts Hitler in the image of a burning house. The composition makes the audience associate to the death of Hitler, as after he commited suicide, his and his wife's body was set on fire by Soviet soldiers in the garden behind Reich Chancellery. The composition is stylized, consists of geometric shapes and the whirling lines indicating the smoke. The colours are simple, yet effective. The author only used dark green, white and black.